Dehumidification and Planned Maintenance

Humidity control via dehumidification is vital in so many businesses, across a wide variety of business sectors. From the creation of charcuterie products, the storage and protection of classic cars and valuable artefacts, through to the manufacture and packaging of tablets and powders in the pharmaceutical sector. The need for dehumidification is wide reaching, and the applications are varied.
But choosing the right dehumidification solution isn't that simple. It takes specialist knowledge and skill to select the correct dehumidifier – with either refrigerant or desiccant technologies – for each project. And while we can't share all of that with you today, we can explain some of the differences, and what each entails.
Refrigerant Dehumidification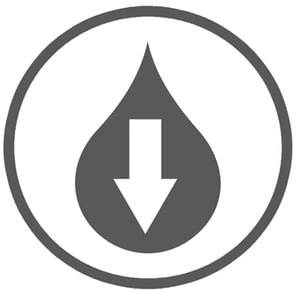 Refrigerant dehumidifiers work by drawing in air and passing it over a cooling coil, which drops the temperature to below its dew point. You can achieve extraction rates between 25 and 3000 litres per 24 hours, depending on the size of the unit, and can be drained using either a fitted condensate pump or simple drained out via duct work. Some units can also be placed on castors for portability, but they are more commonly fixed wall mounted models, or fixed bracket ceiling mounted versions. There is even a through-the-wall solution available, which means they can be fitted in pretty much any environment.
Other positive features of the refrigerant dehumidifiers include:
Sound-proofed compressors, meaning low operating noise
Easy access panels for simple maintenance
Coated internal components, which can withstand aggressive environments
This opens up a huge variety of different applications for refrigerant dehumidification solutions, from warehouse storage, the protection and storage of documents or artefacts, a variety of manufacturing processes, all the way through to managing swimming pool plant rooms. The only catch is that refrigerant dehumidifiers can't operate at very low temperatures – anything below 1⁰C – which means if your environments are low temperatures, you will need a desiccant dehumidifier instead.
Desiccant Dehumidification
Unlike refrigerant dehumidifiers, desiccant dehumidifiers will operate at a much lower temperature than refrigerant ones, which means they will continue to extract moisture from the air even in very cold and sub-zero conditions (although the air doesn't hold much moisture in these conditions.
Desiccant dehumidifiers use a silica gel desiccant rotor to remove moisture from the air, and are ideally suited to cold, unheated environments like storage facilities and cold rooms, where the temperature can get as low as -10⁰C. This technology stops the humidity from dropping moisture onto the cooling coils and causing them to ice up, or to achieve very low humidity in areas like the pharmaceutical sector. One area this would be a benefit is the manufacturing or lithium-ion batteries – a large, growing market requiring a very low humidity (we're talking a -40⁰C dew point and 0%rh) in order to protect the components.
Just like with refrigerant dehumidification, desiccant dehumidification units are available in a wide range of sizes, in permanent and semi-permanent installations, to provide a solution for all scenarios.
Investment vs Reward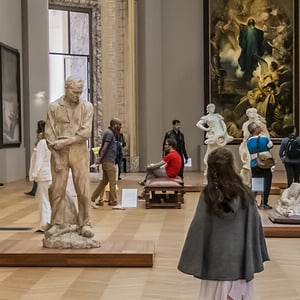 Of course, investing in something as major as a humidity control system will come at a cost in any scenario, but in almost all cases the savings and benefits are worth it, and often the investment will end up paying for itself.
For example, the protection of rare books, priceless artworks and valuable documents is clearly essential to preserve value for individual investors or national/global organisations. Indoor trampoline parks, swimming pools and ice rinks (or really any business in the leisure sector), all require humidity control – primarily dehumidifiers – to prevent mould, odours or the unwanted dripping of condensation from ceilings. Apart from being generally unpleasant, water on the floor is a health and safety issue, and could be an expensive mistake to fix. In food processing or storage areas, dripping condensation might carry bacteria into or from the food product, leading to more serious health and safety issues.
Storage of documents, which could be on paper or on film, need to be kept in the best possible condition – especially for things like geological data from the oil industry. Film can turn brittle and be unreadable if the environment isn't kept within tightly controlled parameters, and to lose this data would be a massive cost. Without the appropriate humidity control cooling coils, cold rooms might frost up, using extra energy, impact the operation of machinery, which has a knock-on effect on productivity, cost and quality of product.
Maintenance Commitments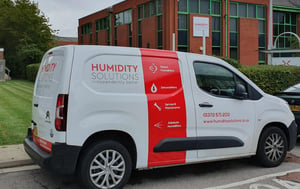 Of course, every piece of machinery requires some level of maintenance. Once installed, dehumidifiers will need routine maintenance work done, which mainly includes changing filters to ensure airflow through the unit is maintained and no pressure drops happen.
We generally recommend a planned maintenance programme for all dehumidification solutions, as this ensures you get the best quality of service from the equipment, with minimal disruption. And while you might view it as an unnecessary expense, repairs when something goes wrong, along with any potential losses to your business, will be much more expensive. When we say loss to your business, this could happen in a couple of ways:
Over time, the air filters in your units become dirty, and the fans have to work harder to push the air through the dehumidifier. This takes more energy and creates more wear on the fan and fan motor, shortening its operating life. Unchecked, the system also becomes less efficient at generating the precise conditions required, resulting in a deterioration in production or the climate trying to be created as time progresses. If left still even longer, the airflow could eventually cause the fan to stop or overheat which creates an equipment failure making the situation critical with loss of production or control of the humidity.
Typically, an emergency call-out will cost more than a planned maintenance visit, so it will save you more money in the long run to plan your maintenance. We understand that humidity control isn't always necessary throughout the whole year for many sectors, which is why we adjust the timing of our visits to reflect your peak unsafe.
Remote Monitoring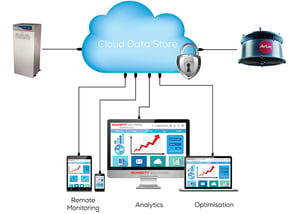 If a planned maintenance contract isn't quite right for you, an alternative is to opt for remote monitoring. This is where the maintenance company monitors the units from their own offices, and provide maintenance only when needed. For example, if the unit triggers an alert saying that the pressure drop across the filters has started to increase, or that the operational hours run above the recommended level, or a fault code is activated. The maintenance company will be notified, and they can take the appropriate actions.
The required actions might be as simple as a phone call instructing a restart, or sending a service engineer to fix the issue. In this case, the service engineer already knows what the issue is, and can come prepared with the appropriate equipment and parts. And because alerts are often set to sound before the dehumidification system actually fails, everything is kept running efficiently – saving you time and money while still maintaining the humidity control you need.