John Barker
Humidity Solutions provides dehumidifiers for Leavenhalls Classic & Prestige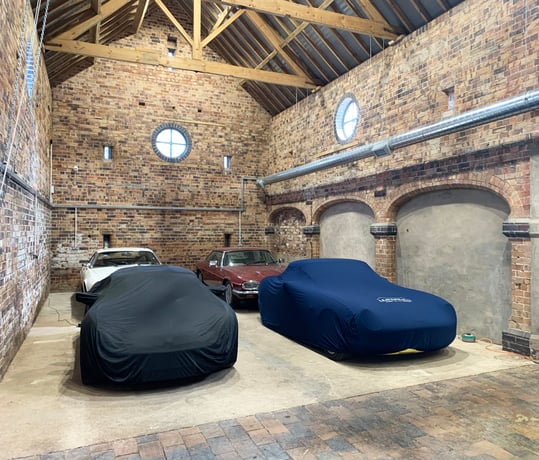 The background
Over the last few years, Humidity Solutions has installed a number of dehumidifiers for car storage companies. However, our client Leavenhalls Classic & Prestige, was one of the more unique applications as their storage facility sits inside an old Victorian farm building.
The historical building which over the years have housed grain, shire-horses and livestock has now been converted into a state-of-the-art dehumidified car storage facility with the capacity to store up to 40 luxury classic and vintage cars. The old brick work and timber ceiling combined with the shiny cars and galvanised duct work make it an aesthetically pleasing combination of traditional and industrial, old and new. This is the perfect setting for car owners to leave their prized possessions and with stable humidity control at 55% relative humidity, they can feel confident their investments are well looked after.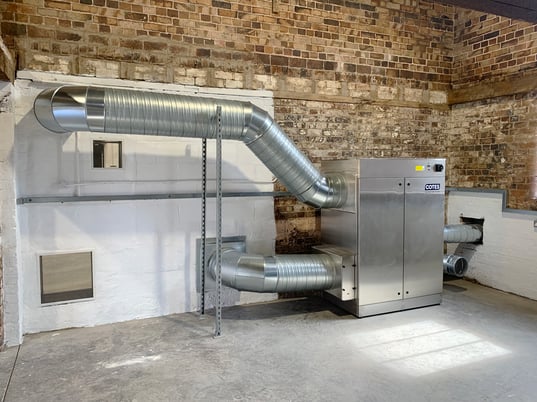 The solution
When storing cars, it is important to have a dehumidified environment to ensure the cars are well protected. If there is too much damp and humidity in the room it can cause many issues, such as corrosion, rusting and faulty electrics. Leather will deteriorate or mould, veneer finishes will warp and other original finishes and details that all add to the value of the car will need repairing or replacing.
Before the conversion of the building, Douglas the owner of Leavenhalls Classic & Prestige had noticed that the walls were prone to condensation. Being a car collector and enthusiast himself, he knew the building required dehumidification and came to Humidity Solutions for advice.
After an onsite consultation from Managing Director, John Barker, the Cotes C65 desiccant dehumidifier was advised as the best option. The Cotes C65 modular unit incorporates a heat recover module as default functionality to improve energy efficiencies, making it the most energy efficient mid-sized dehumidifier on the market. Humidity Solutions are exclusive distributors of the Danish brand, Cotes, who manufacture a range robust, high quality and energy efficient dehumidifiers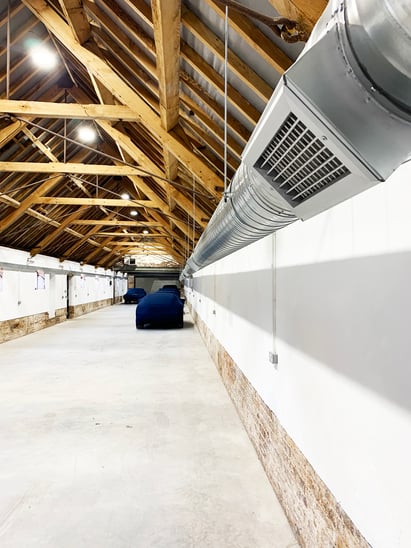 The results
After a successful installation from the team at Humidity Solutions, Leavenhalls car storage is now operating as a dehumidified storage facility, focusing on classic and prestige vehicles. Douglas Dyas, director and owner said: "We partnered with Humidity Solutions because they were fast, flexible and offered complete reassurance. John came out to site and understood our project, which made things a lot easier for me. My experience is not in humidity control, so having John look at the entire project as a whole was incredibly helpful".
John Barker commented: "It's really exciting to see the end product come to life. The mixture of the old building combined with industrial elements makes this a really impressive car storage facility. We're delighted that Douglas has the humidity control he needs to ensure his customers feel confident their cars and investments are well looked after."
Humidity Solutions is a leading independent specialist in humidity control, offering a range of humidifiers and dehumidifiers from some of the world's leading manufacturers. We have a highly experienced and knowledgeable team who can design a bespoke solution for each unique application. To discuss your project, get in touch on 01372 571200 or email info@humiditysolutions.co.uk