Lindsey Henderson
Dehumidifiers for Trident Maritime
The background
Trident Maritime Systems were asked by one of the North Sea platforms to look at their existing HVAC systems as they are going to reduce their number of personnel on board and transfer to 3 weeks manned and 3 weeks unmanned rota. This manned/unmanned platform rota is planned for next 3-4 years, so ensuring preservation of service was key. After that, the plan is to restore full capacity of the existing HVAC system and reinstate full personnel of the platform.
As an existing supplier of Neptronic resistive steam humidifiers for other offshore applications, we were a natural choice to partner with. We were able to advise on the application and provide a solution to keeping their accommodation module under certain humidity and temperature parameters to avoid any mould growing while all their HVAC system is shut down for the 3 weeks unmanned period. The aim was to keep the platform power requirements as low as possible.
The solution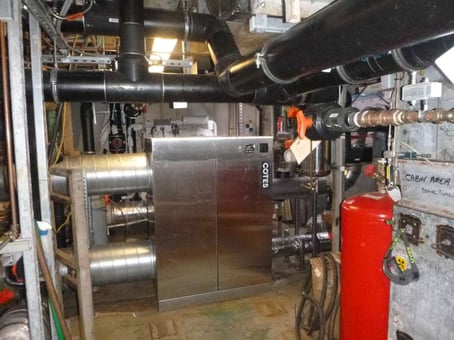 After scoping out the requirements, we advised to have a dehumidifier on each level, but keep all levels open in the unlikely event of any of the units shutting down. The unit model that suited the design parameters was the Cotes C65, of which 4 units were installed. Humidity Solutions are exclusive partners of Cotes desiccant dehumidifiers who manufacture a wide range of exceptionally engineered, energy efficient, reliable dehumidifiers. Depending on the usage, many of the Cote's dehumidifiers work to operational hours in excess of 40,000 hours at full output, which proves their reliability and robustness.
In addition to the correct selection of units, we ensured that Trident had peace of mind with full distant monitoring and control of the unit's operation and internal air parameters. Cotes dehumidifiers are available with different control configurations, tailored to specific needs. In this application Configuration D was selected. The dehumidifier can be operated using different programs (On/Off, Energy+, Quiet, Custom and Specific Humidity). All fans are 100% controllable, making installation fast and easy, whilst reducing noise and keeping energy consumption to a minimum.
Humidity Solutions also provided advice on the following:
Min/max internal air parameter recommendations to prevent mould growth on the offshore platform during summer and winter

Dehumidifiers based on low power equipment to ensure recommended internal air parameters were maintained.

Examples of proposed equipment implementation in offshore or any other industry

Recommendations on distant monitoring and control of proposed equipment
We reviewed the existing platform and HVAC system layouts, capacities, area volumes, heat losses and heat gains. For the unmanned period of time, when all existing HVAC will be shut down, We designed to the following internal parameters:
Winter: +12°C @ 30%rh

Summer: +28°C @ 30%rh
The results
Olga Filon, Senior Project Engineer, believes this Tartan decommissioning scope with accommodation module preservation is first such project in the North Sea. And with great amount of assets built here 30-40 years ago, it is paramount for efficient and effective preservation. She Said: "This was our first time working with Humidity Solutions, and through the process of initial enquiry, selection and purchase, there was great comfort knowing that any of our concerns were reviewed, advised, discussed and agreed accordingly with the Humidity Solutions team. The feedback to date from our client has been very positive, which has now opened up further dialog with potential requirements for more de-humidifier units on other assets around the North Sea."
Humidity Solutions helps many different industries achieve their correct environmental conditions, taking all parameters into consideration. Get in touch with our experts today to discuss your requirements by calling 01372 571200 or email info @humiditysolutions.co.uk